Fred and Ginger: The Complete Collection
Amazon
loves
the classic movie fan.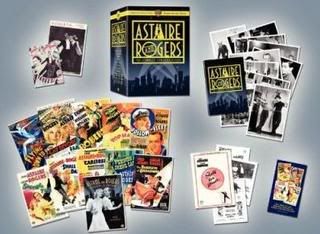 After seeing the stunning
Astaire & Rogers Ultimate Collector's Edition,
set for an October 24th release, I know it can't be otherwise - this set is a classic movie lover's
dream
. Glossy, remastered, and all-inclusive, all ten of the screen team's films are here, from their earliest pairing in 1933's
Flying Down to Rio
to their unlikely collaboration in
The Barkleys of Broadway
nearly twenty years later. The collection is stuffed with extras, too: miniature photo cards, reproductions of selected original pressbooks for the films, and even a cd of Fred and Ginger's finest and best-loved film tunes. As if this wasn't enough, the
Astaire Rogers Ultimate Collection
is priced at just slightly more than the boxed sets containing only five of their movies, at a cool 69.99 - perfect for my Christmas list, and yours, too.
You know you want it.
The Astaire Rogers Ultimate Collection is available for pre-order through Amazon.com through October 24, 2006, upon which date it will be officially released. The set will be available in most retail outlets like Best Buy and Barnes & Noble, but the 69.99 price is not guaranteed in these stores, and there's no beating Amazon's free shipping on the item, anyway.
Want to own this stunning set, but you already have the first volume of the 2005-released Fred and Ginger dvds?
Amazon
can remedy that, too. Simply order the A&R Partial Ultimate Collection, which includes everything except for the five discs you already own. Confusing, yes - but Warner Home Video still deserves kudos for the release of these beloved films in such a stunning set.
Labels: Collections, DVD, Fred Astaire, Ginger Rogers